PUERTO MONTT -> PUERTO NATALES
Navimag, 4 days / 3 nights, ferry with cabins, from US$ 440
First departures of the season 2023-2024:
Puerto Montt > Puerto Natales: 31 October 2023
Puerto Natales > Puerto Montt: 4 November 2023


This is one of the most popular ways to get to the southern edge of the country, and approach to the Torres del Paine National Park, since it is impossible to reach this distant region by road through Chile. The travel is considered as a "one way", because people who sail to Puerto Natales us ually continue their trip into Argentina and Tierra del Fuego, or prefer to fly back. Nevertheless, this journey is considered an experiencie in itself, due to the slow way of entering this magnificent landscape of narrow channels and solitary islands. It is also possible to do this trip the other way round, from Puerto Natales back to Puerto Montt.
Itinerary
The ferry leaves Puerto Montt, and sails through the quiet waters of the Ancud Gulf, protected by the numerous islands of the Chiloé's Archipelago. After crossing the Moraleda Channel, the boat sails through the Penas Gulf, the only part of the journey at open seas. After some hours, the navigation continues through protected channels. The journey goes through the channels White, Sarmiento and Concepción, arriving on the morning of the 4th day in Puerto Natales.
For a detailled description of the southwards trip:

For a detailled description of the northwards trip:
Dates
The season starts in October and lasts till March (there is no passenger transport during the rest of the year).
The departure from Puerto Montt in is scheduled every Tuesday, arriving in Puerto Natales on Friday. If you take the trip northwards, the departure from Puerto Natales is on Saturday at dawn, with embarking Friday night; arrival in Puerto Montt is on Tuesday morning.
Puerto Montt -> Puerto Natales
Dates and departure times
Observations
Tuesday
17:00-18:00
18:30
20:00
Check-In
Embarking
Departure
Friday
aprox. 17:00
Arrival and disembarking
Puerto Natales -> Puerto Montt
Friday
20:00-21:00
21:00
Check-In
Embarking
Saturday
06:00
Departure
Tuesday
about 08:00
Arrival and Disembarking
Note: This schedule is aproximated and may have some changes due to weather conditions and/or cargo needs.
Boats
In October 2021, started to operate Navimag's new ferry, Esperanza. It has space for 244 passengers and offers a cafetería, dining room, a room for activities, an infirmary, three exterior decks and a cabin for passengers with reduced mobility.
The ship transports also cargo and vehicles.
| | |
| --- | --- |
| Ship Characteristics | ESPERANZA |
| Length | 123 mts. |
| Breadth | 21 mts. |
| Capacity (passengers) | 244 |
Cabins
The ferry Esperanza offers accommodation in different categories of cabins with 2 up to 8 beds:
Ferry ESPERANZA
Cabin
Nº Passengers
Bathroom
Window
Premium
2

Private inside

Panoramic
AA
4

Private inside

Yes
A
4

Private inside

No
C
6 / 8

Private inside

No
Reduced Mobility
2

Private inside

Yes

For more information and photos of the Esperanza >
Rates
- All given rates are per person in US-Dollars.
- The cabins Premium Suite, AA, A, and Reduced Mobility are sold only on a private basis. If your group is smaller than the number of berths in the cabin, you have to pay the single, double or triple rate as shown in the list.
- The C-cabins with 6 or 8 beds are only sold on a shared base.
- If you travel with children or infants, you must book a private cabin.
- The price includes fullboard (breakfast, lunch, and dinner) with water, juice and tea or coffee. If you prefer vegetarian, diabetic, etc., food, please mention it while making the reservation.
- Additionally, there is a harbour tax of US$ 10 per person.

Ferry ESPERANZA - October 2023 to a March 2024
Cabina

Single

Double

Triple

Cuadruple

Shared

Premium

2650

1300

-

-

-

AA

2160

1100

800

650

-

A

1650

840

720

590

-

C

-

-

-

-

440

Reduced Mobility

1650

840

-

-

-

For more information and photos of the Esperanza >
Discounts
Infants under 2 years old (sharing bed)

80%

Children under 12 years old

20%
Vehicles Transport
(Rates in Chilean Pesos)

P. Montt -
P. Natales

P. Natales -
P. Montt

Car, Pick-Up, SUV

Ch$ 750.000

Ch$ 450.000

Promotion: Vehicles with passengers that travel in the same ferry

Ch$ 607.500

Ch$ 382.500

Motor Home
Each meter

Ch$ 225.198

Ch$ 135.284

Motorbike

Ch$ 245.924

Ch$ 245.924

Bicycles (free with your passenger's ticket)

free

free
How to make a reservation:
In TravelAid we can make your reservation with the following information:

-Full name
-Nationality
-Passport number
-Date of birth

If you are travelling by car:
-Type of vehicle, brand, model and licence number

The adventure beginns

A wonderful landscape to photograph

An island with sea lions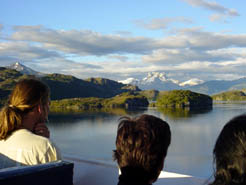 There is always something new to discover

Amazing sunsets

Puerto Edén, the only stop of the journey

Local travellers at Puerto Edén

Fisherman shows a kingcrab

Sailing through narrow channels