PUERTO MONTT - CHAITÉN
Naviera Austral, 9 hours, ferry, from US$ 24
WE DON'T TAKE RESERVATIONS FOR THIS ROUTE
Please contact directly Naviera Austral:
It is the most direct way to get to Chaitén from the continent since there is no continuing road between the two cities, separated by fjords. Leaving Puerto Montt, the ferry crosses the interior sea of the Chiloé archipelago, through calm waters protected by the Isla Grande of Chiloé. With good visibility, it is possible to see a chain of high summits and volcanoes on the continent. There are about 6 services per week. Unfortunately, most trips are done during the night, which spoils the chance to enjoy the view.
This journey is made by Naviera Austral with its vessel Agios. It carries cargo, vehicles, and passengers since the maritime route is one of the best transport and communication options in the zone. The ship has space for 300 passengers on comfortable seats, but no berths nor cabins.
Usually, there is space for passengers until shortly before the departure. However, if travelling by car, it is important to make the booking ahead, especially during the summer holidays.
Dates
Departures times are subject to weather and tide conditions. Travel time: 9 hours.
Half of the trips are subsidized and have reduced rates
Puerto Montt -> Chaitén
Monday 11:00 - Wednesday 23:00 - Saturday 23:00 (regular)
Tuesday 23:00 - Thursday 23:00 - Friday 23:00 (subsidized)
Chaitén -> Puerto Montt
Wednesday 11:00 - Saturday 11:00 - Sunday 23:50 (regular)
Tuesday 23:00 - Thursday 11:00 - Friday 11:00 (subsidized)
Warning: Itineraries, departure times, and trip duration are subject to weather and sea conditions
Ship
The Agios ferry has 300 pullman-type seats with USB ports on the side to power electronic devices. It has a spacious passenger room with large windows to enjoy the beautiful landscapes of your route; It offers satellite TV, air conditioning, bathrooms for men and women, a bathroom for the disabled, and two cabins with showers. Next to this room is the cafeteria, which offers a wide range of products.
There are seats on the upper deck so the passenger can enjoy the trip, comfortably observing the beauty of the landscape outside.
Rates
Prices in Chilean Pesos:
Rates
Puerto Montt -> Chaitén
(or vice versa)
Normal Rate
Subsidized Rate
Passenger

Ch$ 30.000

Ch$ 18.860

Small vehicle

Ch$ 170.000

Ch$ 124.240

Motorcycle

Ch$ 57.000

Ch$ 23.120

Bicycle

Ch$ 30.000

Ch$ 11.110
How to make a reservation:
For more information, please contact directly Naviera Austral:
Web Site: www.navieraustral.cl
Email: contacto@navieraustral.cl
600 401 9000 / +569 5723 6662 / +569 3953 7794
Pto. Montt: 652 270 430 / +569 82391576 / +569 77273804
Chaitén: 652 731 011 / +569 7579 0110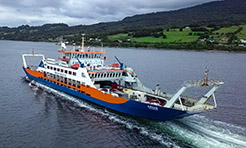 The Agios ferry has a capacity of 300 passengers

It has assigned seats, but there are no berths

Comfortable seats in the cafetería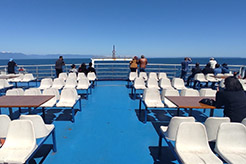 Chairs on the outside deck to watch the landscape