BAHÍA EXPLORADORES -> LAGUNA SAN RAFAEL -> BAHÍA EXPLORADORES
Boats for 12 - 14 people, Programs from 1 to 3 days, from US$ 250
It is a new way to visit Laguna San Rafael from Bahía Exploradores, now connected by road from Puerto Río Tranquilo at Lake General Carrera, about 220 km south of Coyhaique in the Carretera Austral.
It is a more adventurous trip, done in small boats for 10-14 passengers. It is less comfortable, but allows a more intimate experience. The programs with overnight at the shores of Laguna San Rafael include walks through the forests towards a view point overlooking the glacier.
Important: Due to the characteristics of the small vessels, with strong winds and waves, the excursion cannot take place. That is why we recommend to consider alternative dates to do this trip, if possible.
Itinerary
The starting point is a small place called Bahía Exploradores. To get there you must take the road from Puerto Río Tranquilo, which means 90 kilometers of a road recently opened*). It takes about 2 1/2 hours. If you don't have your own vehicle, it is possible to hire a transfer.
*) At km. 75 there is a bridge you must cross to get to the dock area. Its dimenssions don't allow big vehicles to get through it, like motor homes and such. Please consult with us first, if you are travelling with a large vehicle.
From the dock starts a mild navigation through the last part of the delta of the Exploradores river, before it gets to the sea. After some 2 1/2 hours we enter the Témpanos river , which connects to the Laguna San Rafael and then we navigate towards the wall of the glacier to admire this magnificent scenery. After lunch we start the trip back to Bahía Exploradores, arriving at the dock around 5 PM.
For more detailed information on this excursion and the 2 and 3 day programs see: al:
Important: Please be aware that there might be wind and/or rain conditions, that won't be good to start the excursion at all or may make it necessary to leave back earlier, without the possibility of completing the full program.

Dates
This excursion is made from mid-August to late April, according to availability and weather conditions.
For this excursion it is necessary a minimum of 6 people. Usually during the season there are daily departures or reservations. If you are travelling on your own or with less than 6 people, contact us to see the availability. If for a certain date there are less passengers, the trip can be done anyway, but in this case the participants must divide the original cost for 6, between them.
Because of the weather conditions of this region and possible departure cancellations, it is convenient to have in mind alternative dates.
Boats
The boats are small fiberglass vessels for 10-14 passengers. There are seats for everybody inside the cabin during the fast part of the navigation. On the outside deck there is room for all passengers while stoping at interesting points to make pictures or enjoy the views.
Accommodation
The full day program does not consider accommodation. The 2 and 3 day programs are with accommodation "Lotus Belle" tents close to Laguna San Rafael or in a more rustic campsite at the Quintin beach.
Right now, Bahía Exploradores has no regular places to stay overnight. There are some rustic options on the road, but usually people stay at Puerto Río Tranquilo where there are many cabins, hostels and bed & breakfast (consult us for the listing).
Prices
Prices en Chilean Pesos
The prices are per person and include the excursion from Bahía Exploradores. It is also possible to book with the transfer from/to Puerto Río Tranquilo. Includes navigations, experienced guides, entry fee to the National Park, insurance and food according to the program.
Excursion to Laguna San Rafael from Bahía Exploradores
Program

Rate from
Bahía Exploradores

With transport from
Puerto Río Tranquilo

Full Day

Ch$ 180.000

Ch$ 200.000

Program 2 days / 1 night

Ch$ 340.000

Ch$ 360.000

Program 3 days / 2 nights

Ch$ 470.000

Ch$ 490.000

Rates for Children under 12 years*)
Full Day

Ch$ 105.000

Ch$ 125.000

Program 2 days / 1 night

Ch$ 180.000

Ch$ 200.000
*) Note: Rates for Children from 3-11 years in 1- or 2-day-excursions; Children under 2 years free (without food).
Minimum age for 3-day-program is 12 years.

Programs:
How to make a reservation:
In TravelAid we can take your reservation with the following information:

-Full name
-Nationality
-Passport or ID number
-Date of birth

Please tell us also if you are driving in your own vehicle to Bahía Exploradores, or if you need to hire the transfer service.

Boat in front of the glacier San Rafael

Glacier and icebergs.

The boats have capacity for 10 - 12 people.

Iceberg break off and slide.

A seal rests over an iceberg.

Ruins of Hotel Ofqui

Walk through the forest to the viewpoint.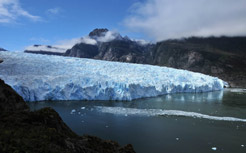 Glacier San Rafael from the viewpoint.