PUERTO VARAS - BARILOCHE (or viceversa)
Cruce Andino, 1 or 2 days, by bus and catamarans, from US$ 253

It is a different way to cross the Andes towards Bariloche, Argentina. This journey allows you to enjoy the spectacular crossing of three lakes, with views to impressive volcanoes and mountains on both sides of the Andes.

Itinerary

The departure is from Puerto Varas towards Petrohué where there is the first change to a catamaran in order to cross the Todos los Santos lake. In Peulla there is a bus waiting to take you to Puerto Frías, a tiny village already in Argentina. After sailing the small lake Frías and another short bus ride, you arrive at Puerto Blest on the shores of the Nahuelhuapi Lake, where there is the catamaran to take you to Puerto Pañuelo. From this point there is still another short bus ride left to reach the final destination, Bariloche.
The excursion viceversa contains the same stages reverted.
The journey last en entire day. If you wish, it is possible to make a stop over at Peulla, in the heart of Vicente Pérez Rosales national park or at Puerto Blest, Argentina, and continue the next day.

Dates
Daily departures all year round.
Means of transportation

The trip is made with tour buses in the roads, and modern catamarans for 300 passengers to cross the lakes (one class).

Rates

Trip in 1 day (without lodging):

1 July 2023 to 30 April 2023

Rate
One way
Round Trip
Foreigners
US$ 325
US$ 486
Residents in Chile/Argentina
US$ 253
US$ 253
"Bike & Boat"
(only the 3 navigation parts
US$ 133
US$ 198

- Rate is only for transportation and guide, but does not include food.
- Rate "Bike & Boat" is for cyclists riding their own bike and includes only navigation on the 3 lakes, but not terrestrian transport.

Discounts:
Children under 12 years
50% discount
Infants (under 2 years)
free, with no right of seat




Trip in 2 or more days, with lodging:
If you want to do the tour in 2 or more days, you can spend a night at the Hotel Natura in the small town of Peulla, Chile and/or at the Hotel Boutique Puerto Blest, Argentina.
You must pay the usual rate for the trip plus the lodging.

Lodging at Hotel Natura - Peulla or Puerto Blest

Rate
Low Season
1 Apr to 31 Oct 23
High Season
1 Nov 23 to 31 Mar 24
Single Room
US$ 122
US$ 182
Double Room
US$ 152
US$ 228
Triple Room
US$ 182
US$ 274

Rate per room, expressed in US dollars.
Includes: 1 night accommodation at Hotel Natura or Hotel Puerto Blest in a standard category room. Breakfast.
Not included: 21% VAT for residents of Argentina at Hotel Puerto Blest, Argentina.
19% VAT for Chilean residents at Hotel Natura, Chile.
Foreign passengers don't pay this tax.

Hotel Natura in Peulla, Chile

Hotel Puerto Blest, Argentina




How to make a reservation

We can take your reservation at TravelAid with the following information:

-Full name
-Nationality
-Passaport or ID number
-Date of birth
-Occupation
-Country of residence
- If possible, your hotels in Puerto Varas and Bariloche

*Since this is an international trip, it is very important to give your information exactly as it appears in your papers you will use for this trip. To avoid misunderstandings, you will be asked for a copy of your passport when taking the reservation.

All images:
Copyright by Cruce Andino

Lake Todos los Santos and Volcán Osorno

Petrohué waterfalls

Puntiagudo volcano

Arriving at Peulla

Crossing the border in bus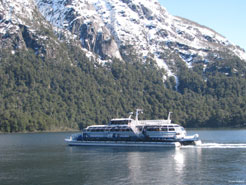 Catamaran in Lake Nahuel Huapi

Puerto Pañuelos near Bariloche