PUERTO NATALES -> SOUTHERN ICE FIELD -> PUERTO NATALES
Skorpios, 4 nights, luxury cruise, from US$ 2400
TTThe season 2022-2023 has been cancelled.

Next departure on 16 October 2023
The "Kaweskar Route" is the star trip of Skorpios, using for this route its most modern and luxury vessel. The cruise lasts 5 days and 4 nights. You will visit different fjords with hanging glaciers in the Southern Ice Field. The voyage includes excursions by boat through bays and several disembarkings to get closer to the glaciers.
Itinerary
The ship sets sail from Puerto Natales and first visits a colony of sea elephants. On day two, we enter the Guillard Fjord to see its glacier and the Sarratea Bay. Then sightings and landings are made at the Amalia and El Brujo Glaciers and the Calvo Fjord. On the last day, the ship navigates through the "Fiordo de las Montañas", where you can see five small glaciers that hang down from the hills to the sea. After the farewell party, we return to Puerto Natales.
For a detailed description of this trip:
Dates
There are departures from October to April according to the following calendar:
Season 2023/2024
Low Season
High Season
October 23
16-21-27
December 23
24-30
November 23
1-7-12-17-22-28

January 24

4-10-15-21-26

December 23
3-9-14-19

February 24

1-6-12-17-22-27

March 24
3-8-13-18-23-28
April 24
3-12-17-22
Ship
This route is made by the vessel Skorpios III which has a top capacity of 110 passengers. It has wide decks, bars, lounges and dining rooms where you can share a nice time with other fellow travelers. It has a sincronized translation for the talks, a professional digital recording system and the broadcast of videos through internal channels.
For pictures and description of Skorpios III >
| | |
| --- | --- |
| Ship Characteristics | Skorpios III |
| Length | 70 mts. |
| Breadth | 10 mts. |
| Passenger's capacity | 110 |
Cabins
It has 49 fully equiped cabins with low beds, luxury and wide bathrooms, fridge, music, internal phone, TV and safety boxes. The cabins are located in five different decks, with prices depending in the kind of accommodation and where they are within the boat. All cabins have windows, but the ones in the Atenas deck.
Rates
Rates in US-Dollars
The prices are per person in a double cabin. The price includes full board, open bar and all the excursions in the program.
Note: There is an extra harbour tax of US$ 70.

Low Season:
October to 20 December 2023 - March to April 2024

Decks / Cabins

Atenas

Acrópolis

Parthenon

Olympo

Athos

Single

3.600

Double B

2.400

Double A

2.530

2.650

2.650

Double Matrimony

2.750

Suite Junior

2.950

Suite Master

3.250

Extra Bed

1.450

1.550

1.660

1.710

1.710

For pictures and description of Skorpios III >
High Season:
24 December 2023 to 28 February 2024

Decks / Cabins

Atenas

Acrópolis

Parthenon

Olympo

Athos

Single

3.890

Double B

2.590

Double A

2.720

2.840

2.840

Double Matrimony

2.940

Suite Junior

3.200

Suite Master

3.500

Extra Bed

1.570

1.680

1.780

1.850

1.850

For pictures and description of Skorpios III >
Rates for Children
From 1 up to 5 years old

Free, sharing bed with the parents

From 6 years old

Regular rate
How to make a reservation
In TravelAid we can make your reservation with the following information:

-Full name
-Nationality
-Passport or ID number
-Date of birth
All images: Copyright by Skorpios.

Skorpios III in front of Amalia glacier

Visting El Brujo glacier

Desembarking for a walk to the glacier

Almost touching El Brujo glacier

Passing Fiordo Antrim in specially built boats

After the excursion: a reconforting meal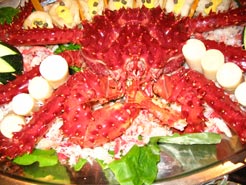 Spider crab, a Patagonian delicatessen