Description of the boat and cabins


The Motorvessel Skorpios III was built in 1995 in the Skorpios Shipyards. It has a length of 70 meters, a width of 10 meters and a fret of 3.30 meters. The ship has 49 cabins and a capacity for up to 110 passengers and possesses the most advanced telecommunication technology and satellite navigation. The spacious acclimatized cabins, vested in fine native woods, include Master Suites, Junior Suites, Matrimonials, Doubles and Triples. All equipped with low beds, luxurious and ample private bathrooms, Plasma TV, fridge-bar without cost, multifunctional communications system, two music channels, two TV channels and two Video channels with stereo sound, professional digital recording system and video exhibition through internal channels.All cabins have windows, except the ones on the Atenas deck.
The ship has spacious outer decks and commun areas. The Zeus bar (smoking), English style and the Apolo Lounge (non-smoking), Classic style, provide a warm ambient to share with your traveling companions.

Deck distribution:

Cabins:

Suite Master Olympo

Suite Junior Athos




Matrimonial Cabin, Olympo - Parthenon - Acrópolis

Doble A Cabin, Parthenon - Acrópolis


Doble B Cabin Atenas, without window


All cabins with plasma TV.

Chairs and table may not be in triple cabins.

Cómo reservar
En TravelAid podemos tomar su reserva con los siguientes datos:

-Nombre completo
-Nacionalidad
-Pasaporte o documento de identidad
-Fecha de Nacimiento
All images: Copyright by Skorpios.

M/V Skorpios III in front of a glacier

Dining room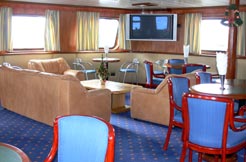 Apolo bar

Zeus lounge

The chefs presenting the dinner

Sea food selection

First class gastronomy

Open bar during the whole journey

Comfortable bathrooms in the cabins