PUERTO MONTT -> ISLAS LEMUY, QUEHUI Y MECHUQUE -> PUERTO MONTT
Skorpios, 2 days / 2 nights, luxury weekend cruise, from US$ 560
In winter 2022 Skorpios started a new weekend cruise to the Islands of Chiloé called "Ruta Veliche".
Next departures:
25 August 2023 - Skorpios III
22 September 2023 - Skorpios III
In winter (from May to September), Skorpios use their ships offering a weekend cruise from Puerto Montt to some lesser-known islands of the Chiloé Archipelago, with guided visits to picturesque villages, fishermen's coves and wooden churches, all immersed in the typical chilote landscape.
It is a good opportunity to get to know the "Skorpios world", pioneers of tourist cruises in Chile, for a more affordable price.
Itinerary
Day 1 - Friday:
5:00 p.m. Start of boarding. 8:30 p.m. Set sail from the Skorpios terminal in Puerto Montt, sailing through the Tenglo channel. 9:00 p.m. Dinner on board. Navigation continues through Maillen Passage, Tautil Passage, Calbuco Channel, crossing the Gulf of Ancud, heading towards Lemuy Island.
Day 2 - Saturday:
08:00 a.m. Anchored in Isla Lemuy, Puchilco sector. 09:30 hrs. Disembarkation. We take the buses and tour this wonderful island of gentle hills and green meadows. We visit the town of Puqueldon, the square and church, and a beautiful viewpoint. Then we drive to the village of Aldachildo and its beautiful beach, to continue later to the sector of Punta Detiff, Liucura and finally Lincay, where we will visit the Yayanes private park, to make a beautiful walk inside a typical humid forest of southern Chile. 1:00 p.m. Return to the ship to enjoy a delicious lunch.
1:30 p.m. Set sail bound for Quehui Island. 2:30 p.m. Arrival at the bay, the ship anchors. 3:00 p.m. Disembarkation in boats and walk around the place. We recommend visiting the church and a small museum that shows the island's history. 6:00 p.m. Set sail towards Tenaún, arriving at 8:30 p.m. 8:45 p.m. Captain's dinner and dance.
Passengers on Lemuy Island will be divided into groups of 36 average passengers to board the buses with our guides, who will take them to the different tourist places according to the program to avoid massive visits to towns and churches. All the buses will carry out the visits of the program individually.
Day 3 - Sunday:
08:00 a.m. Departure from Tenaún bound for Isla Mechuque. 9:30 a.m. Landing, boat rides if conditions allow. Visit to this village, museum and its stilt houses. 12:00 p.m. Set sail for Puerto Montt. 1:00 p.m. A typical "Curanto" for lunch. Navigating through the Gulf of Ancud and the Calbuco Archipelago to reach Puerto Montt. 5:30 p.m. Disembarkation of passengers. End of the Cruise.
Note: When both ships set sail, the Saturday program is reversed: One Skorpios vessel goes to Isla Lemuy and the other to Isla Quehui. In the afternoon, they change the visits.
Attractions:
Lemuy Island:
It is one of the largest islands in the Chiloé archipelago, with an area of ​​about 97 km2, and constitutes the district of Puqueldon. It is separated from the Big Island by the Lemuy Channel to the north and by the Yal Channel to the west. Lemuy in the Mapudungun language means "it is wooded". There are three wooden churches declared a World Heritage Site by Unesco: Aldachildo, Detiff and Ichuac. The Jesús Nazareno Church in Aldachildo was built at the end of the 19th century and was declared a National Monument in August 1999 and a World Heritage Site in November 2000. It was restored between 2005 and 2007.
Quehui Island:
Quehui is another island in the Chiloé archipelago, Los Lagos Region. Its population is 699 inhabitants, according to the 2017 census, and it forms part of the Castro commune. The island has an area of ​​27.6 km2 and an approximate east-west length of 9.6 km. It is shaped like crab claws, separated by the Pinto estuary. The main town is the hamlet of Los Angeles, where the Church and the historical museum are. Other sectors of interest are Peldehue, San Miguel and Camahue. The island's economy is based on subsistence agriculture, seaweed harvesting and artisanal fishing.
Mechuque Island:
This island belongs to the group of Chauques Islands. Small islands and channels form a labyrinth and are a great tourist attraction. Mechuque had a great logging boom in the early 19th century exploiting native woods, which along with a canning industry, generated great activity in the navigation to the north and south of the archipelago. Large mansions remain from that time and a beautiful bridge that joins two town sectors. Villa Mechuque is a town with stilt houses, where around 300 people live in their homes with roofs made of larch tiles. It has a craft fair and a small museum.
Dates
This cruise is offered in the winter months, June through September. Departures on Fridays and returns on Sundays.

June - September 2023 in M/V Skorpios II and Skorpios III
CRUISE OF 2 NIGHTS - 2 DAYS
April 23
28
May 23
-
June 23
23
July 23
07 - 14
August 23
11 - 25
September 23
08 - 22

Nota: Sailings are confirmed according to demand to set sail with enough passengers to make the trip profitable.
Boats
This route is covered by the ships Skorpios II and III, with a capacity for 106 and 88 passengers. According to the demand, both vessels can set sail or only one. Some dates can get cancelled due lack of passengers.
For pictures and description of Skorpios II >

For pictures and description of Skorpios III >
| | |
| --- | --- |
| Boat Characteristics | Skorpios II & III |
| Length | 70 mts. |
| Width | 10 mts. |
| Passenger capacity | 106 & 88 |
Cabins
All cabins are fully equipped and decorated. They have a private bathroom, music, intercom and TV. Cabins are located on five decks, rates depend on the facilities and the location within the ship. All cabins have windows, except the ones on the Atenas deck.
Prices
Rates in US-Dollars
Prices are per person based on double occupancy. The rate includes full meals, drinks and the mentioned excursions.
Additionally, a harbour fee of USD 20 per person is charged.


Rates in Skorpios II - June to September 2023

Decks / Cabins

Atenas

Acrópolis

Parthenon

Olympo

Athos

Single

970

Double

670

820

880

Triple

560

670

730

Double Matrimonial

970

970

Suite Junior

1045

Suite Master

1200

For pictures and description of Skorpios II >
Rates in Skorpios III - June to September 2023

Decks / Cabins

Atenas

Acrópolis

Parthenon

Olympo

Athos

Single

1090

Double B
(no window)

730

Double A
(with window)

880

940

940

Double Matrimonial

1030

Suite Junior

1120

Suite Master

1270

Extra Bed

600

730

785

860

860

For pictures and description of Skorpios III >
Children Fares
Up to 5 years

Free, sharing bed with the parents

From 5 to 11 years

50% discount sharing cabin with two adults

From 12 years on

Full Price
How to make a reservation:
In TravelAid we can take your reservation with the following information:

-Full name
-Nationality
-Passport number
-Date of birth
All pictures: Copyright by Skorpios.

The ship anchors in the bay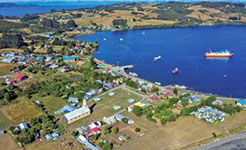 Quehui Island from the air

Returning to Puerto Montt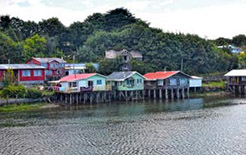 Stilt houses in Mechuque

Reina de los Ángeles church in Quehui

Punta Detif on Lemuy Island

Church of Aldachildo

The famous Skorpios buffet

Wide selection for all tastes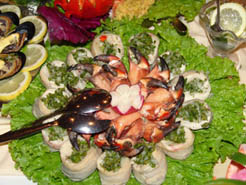 Delicacies of the sea